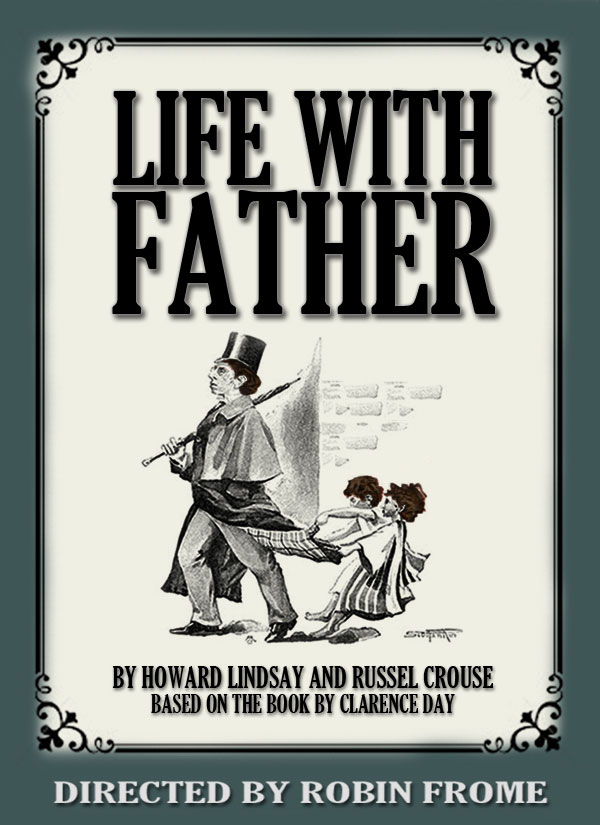 Life with Father
December 2,3,4 9,10,11 16,17,18 2016
(Preview December 1 & Matinees December 4,11,18)
Life with Father is a joyous and sentimental glance at the Day family, set in Manhattan in the late 19th century. It involves patriarch Clarence Day, his beautiful wife Vinnie, their four red-headed sons, a loyal cook and relations who fail to see the point of hotels. The themes of first love, old love and the enduring lure of family made it one of the longest running shows in the history of Broadway and is a comedic delight for all ages.
Directed by Robin Frome
Special Events
Staged Reading – Dracula A new adapation of Bram Stoker's Novel. By Joseph Stephen Russo. Saturday, October 29th at 8:00pm.
2017 Play Submissions

Sherman Players is in the process of planning its 2017 season. We invite area directors to submit play selections for consideration by our play selection committee. Plays are welcome from a variety of genres including: comedy, drama, and musicals. Directors will receive a stipend of $500.
Submissions must include a theatrical resume and a completed submission form (available for download here.)
Email all applications to: information@shermanplayers.org Please include: "Play Submission" in the subject line. Or mail to: The Sherman Players • PO Box 471 • Sherman, Connecticut 06784 Submission Deadline: November 1, 2016

*If you are a director who is interested in directing, but don't have a particular play in mind, we'd like to hear from you as well. Please send along your resume, along with the time frame you are available to direct.
Directors will be informed of the Board's decision by November 20th.