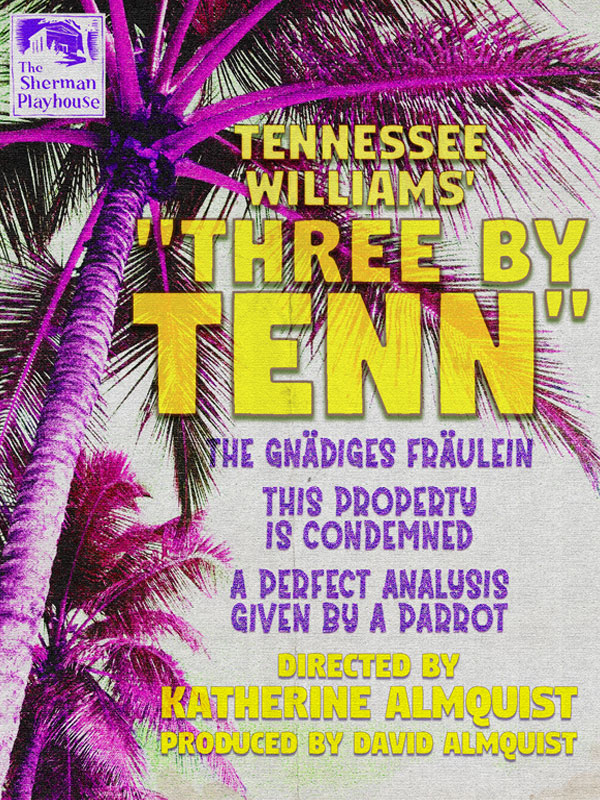 THREE BY TENN
By TENNESSEE WILLIAMS
Directed By KATHERINE ALMQUIST; Produced By DAVID ALMQUIST
March 5 (Preview), 6, 7, 13, 14, 15 (Matinee), 20, 21, 22 (Matinee), 27, 28
Friday & Saturday 8:00PM
Sunday Matinee 2:00PM

Slapstick Tragedy.  Far out tragic-comedy in the genre of Theatre of the Absurd, with a touch of Theatre for Cruelty.
"The Gnadiges Fraulein" is set in a rickety bunkhouse, for "permanent transients," whose characters include a society columnist, a frowzy crone, a demented former Viennese vaudevillian, a Cacaloony bird and a blond-wigged Indian.
Two lonely children inhabit "This Property Is Condemned," abandoned and aching for human connection.
Overdressed, heavily rouged ladies,  "...in the autumn of their youth" hit the town for a high old time during an annual convention in "A Perfect Analysis Given By A Parrot."
Tennessee Williams can compress the basic meaning of life—its pathos or its tragedy, its bravery or the quality of its love—into small scenes or a few moments of dialog.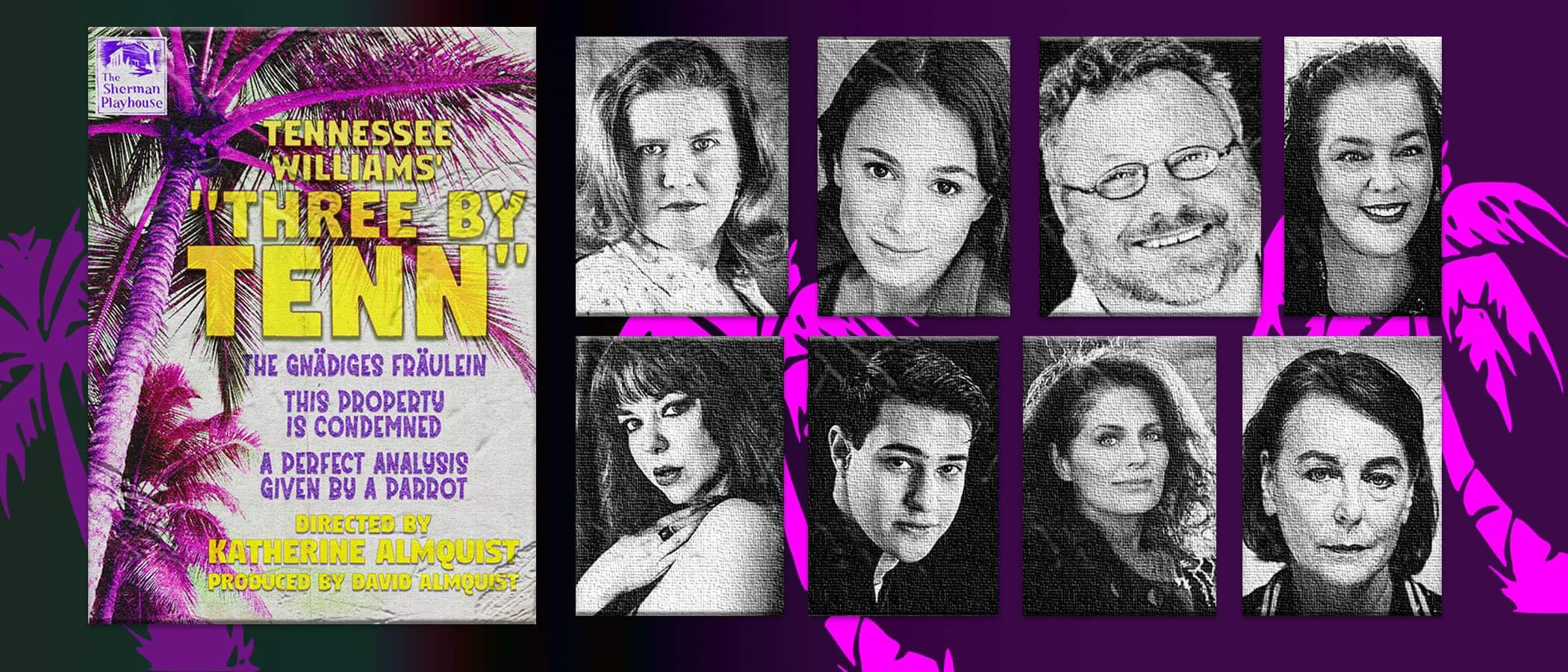 (1st row l to r) Stacy-Lee Frome, Reesa Nestor, Robin Frome, Beth Bonnebeau (2nd row l to r) Agnes Fohn, Joseph Russo, Susan Abrams, Noel Desiato 
Upcoming Auditions
Whodunnit – Sunday, Feb. 9th from 2:00 to 5:00 p.m and Monday, Feb. 10th from 7:00 to 9:00 p.m. [more information]
2020 Season Subscriptions
Experience all five shows of The Sherman Players' 2020 Season for less than the cost of ONE Broadway show. Subscriptions for the 2020 season are $100. Pay ahead now and pay less than what you would pay later at the door.
2020 Season Brochure
Our 2020 season is going to be filled with highly entertaining fair from a host of excellent directors, new and old, to cross our boards.

Follow Us On Facebook
AUDITION NOTICE:

A group of six strangers - and a butler - have gathered for a black-tie dinner in the English country mansion of a wealthy lawyer during a thunderstorm. One of the guests, identified only as an "oily Levantine", tells his fellow dinner guests that he has information with which to blackmail each and every one of them. This, of course, makes him ripe for murder...
The production calls for 7 men and 3 women, ages 20 to 70.
Note that some parts require two accents – Standard British English and regional/international.
Audition dates are Sunday, Feb. 9th from 2:00 to 5:00 p.m and Monday, Feb. 10th from 7:00 to 9:00 p.m. at the Sherman Playhouse, 5 Route 39 N, Sherman, CT 06784.
Callbacks, if needed, will be on Thursday, Feb. 13th from 7:00 to 9:00 p.m.
Please prepare a 2 minute monologue of any style.
The production runs May 7 (Preview), 8, 9, 15, 16, 17 (Matinee), 22, 23, 24(Matinee), 29, 30.
For further information contact the director Alexis Vournazos at alexism82@msn.com
Cast:
Archibald Perkins – the butler - English & Cockney accent
Andreas Capodistriou – an oily Levantine-Greco - Turk accent
Silas Bazeby – a respectable family lawyer - English accent
Rear Admiral Knatchbull Folliat – an old sea dog - English & Scottish accent
Lady Tremurrain – a dotty aristocrat - English & Southern accent
Lavinia Hargreaves – a sweet young thing - English accent
Roger Dashwell – a black sheep - English & Australian accent
Dame Edith Runcible – an eccentric archaeologist - English & Cockney accent
Inspector Bowden – an unconventional Scotland Yard detective - English accent
Sergeant – a stolid copper - English accent ... See moreSee less
Load more