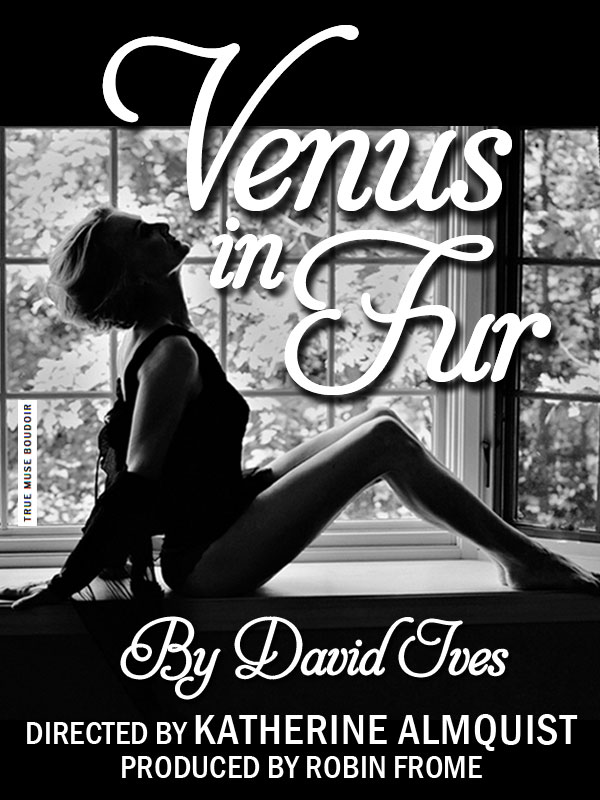 Venus in Fur
By David Ives
Directed by Katherine Almquist
February 15, 16, 22, 23, 24, March 1, 2, 3, 2019
8:00 p.m. Friday & Saturday
2:00 p.m. Sunday Matinee
We are pleased to offer a complimentary romantic cocktail, in honor of St. Valentine's Day, on February 14, 15 & 16. Please join us in the Green Room at 7:30.

Thomas, a beleaguered playwright/director, is desperate to find an actress to play Vanda, the female lead in his adaptation of the classic sadomasochistic tale Venus in Fur. Into his empty audition room walks a vulgar and equally desperate actress—oddly enough, named Vanda. Though utterly wrong for the sophisticated part, Vanda exhibits a strange command of the material, piquing Thomas's interest with her seductive talents and secretive manner. As the two work through the script, they blur the line between play and reality, entering into an increasingly serious game of submission and domination that only one of them can win.
Recommended for Mature Audiences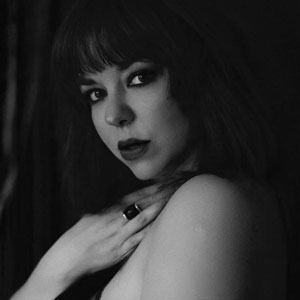 Agnes Fohn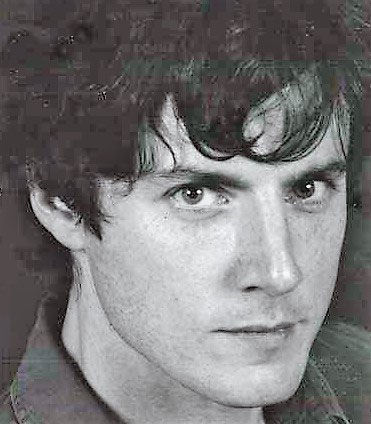 Chris Luongo
Directing Opportunity
The Playhouse is looking for budding directors college age and up to be a part of our Director Intern Program. This program is designed for interested applicants to shadow our seasoned production directors which can lead to eligibility to direct at the Playhouse in the future. This program will start with the summer show, The Tempest, directed by Robin Frome and include the Fall show Cabaret, directed by Bradford Blake and culminate with our December Panto, Jack and the Beanstalk directed by Steven Stott. If you are interested in assisting the director in one of these three productions please send your resume and letter of intent to Playhouse President, Robin Frome. Interested applicants may also email Mr. Frome with further questions.
Follow Us On Facebook
AUDITIONS ANNOUNCED!!

The Sherman Playhouse will be auditioning for The Graduate by Buck Henry, Terry Johnson, Charles Webb, Calder Willingham Directed by Susan Abrams.

This is the first play adaptation of the classic novel and cult film. Benjamin's got excellent grades, very proud parents and, since he helped Mrs. Robinson with her zipper, a fine future behind him. A cult novel, a classic film, a quintessential hit of the 1960s. Now Benjamin's disastrous sexual odyssey is brought vividly to life in this world stage production.

Director Susan Abrams makes her way back to the Sherman stage after directing The Guys and Enchanted April, Talk Radio at Theatreworks New Milford and Female Transport at The Phoenix Stage Company in Oakville, CT.

The Playhouse will be looking for five males and six females 18 to 60 years of age Non-speaking roles will be available - a great introduction to a theater and novices are encouraged to audition. All types and ages over 18 will be considered.
Open auditions on February 18 & February 19th, 7:00pm - 9:00pm at the Sherman Playhouse. (Shermanplayers.org for directions Call-backs, if required, will take place on February 20th at 7:00pm.

All actors will be asked to read from the script at auditions..

Rehearsals are Monday through Thursday (starting with one Sunday March 3 with first table read, time TBA) 7-930 pm

Production dates are: April 19, 20, 26, 27, 28 (Matinee), May 3, 4, 5 (Matinee), 10,11, 2019

For questions regarding this production, please contact director, Susan Abrams at snuzywaa5a@gmail.com

CAST LIST:

BENJAMIN - 20-25
MRS. ROBINSON 40-60
MR. ROBINSON 50-65
ELAINE - 20-25
MR. BRADDOCK (DAD) 40-60
MRS. BRADDOCK (MOM) 40-60
STRIPPER 18-35
HOTEL CLERK - 18- up
PSYCHIATRIST - 35-up
MEN (20s to 60s) -
WEDDING GUESTS (all ages over 18)
PRIEST 30-up ... See moreSee less
An excellent choice and a perfect director! This is one that I might actually haul my tired old bones out to see! Although (because I'm a crazy old curmudgeon) since The Graduate won a crap ton of Oscars, Golden Globes, BAFTAs etc...do we really think that Mike Nichols created a cult film? The notion of The Graduate as a cult film so perturbed me that I actually checked Wikipedia's extensive and impressive list of cult films under G, and nope, no The Graduate. (Hopefully this will inspired spirited debate and create a cult following for the show before it opens! 😜) #plastics
I would love to see this!
Great play. Played Mr Braddock back in 2012 at Ivoryton. Such a blast.
Load more