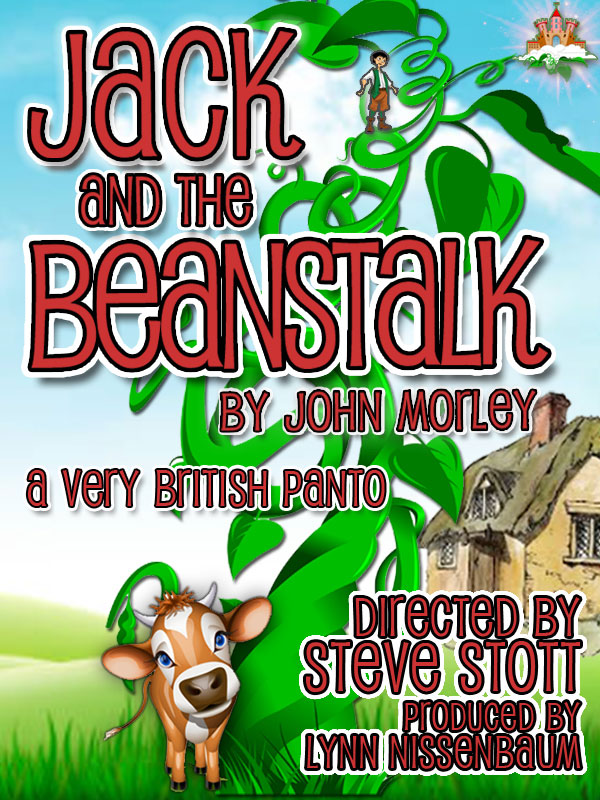 Jack And The Beanstalk
By John Morley
Directed by Steve Stott
December 6, 7, 13, 14, 15 (Matinee), 20, 21, 22 (Matinee), 27, 28, 2019
Friday & Saturday 8:00PM
Sunday Matinee 2:00PM

Traditional British Panto returns to Sherman! Oh yes it does! Jack and the Beanstalk is one of the UK's favorite pantos, filled with spectacle, songs and good family fun. Falling on hard times good-hearted dreamer Jack is sent by his mother, Dame Trott to market to sell his faithful, sweet-natured cow Daisy. Meanwhile Fleshcreep, the Giant's wicked henchman is sent to terrorize the kingdom and kidnap the Princess, stealing her away to his master's castle in the clouds. Why does Jack exchange Daisy for a bag of magic beans? Will the Princess be rescued from Fleshcreep's evil clutches? Can the Giant be defeated and the kingdom freed? Find out as Jack climbs the beanstalk to adventure aided by his silly brother, a good fairy and a bumbling King with his dimwitted guards! There'll be music, dancing, magic, thrills, spills and jokes coming thick and fast! Fun for all the family where the audience is definitely encouraged to join in the silliness!

Latest News
Three one acts by Tennessee Williams, "The Gnadiges Fraulein", "A Perfect Analysis given by a Parrot", and "This Property is Condemned."
Auditions will be Sunday, December 8th by appointment, Monday, December 9th, 6:30 to 8:00 and Tuesday, December 10th, 6:30 to 10:00
Follow Us On Facebook
CASTING CALL.
Please contact director Steven Stott

Men Needed! The Sherman Playhouse is looking for men to join the ensemble in Jack and the Beanstalk, our traditional British Panto - a hugely entertaining family show that's a mix of Fairy Tale and Broadway musical with a splash of Monty Python thrown in the mix!
The show is full of spectacle, corny jokes and great songs such as 'We're in the money', 'It's not where you start, it's where you finish', 'Anything you can do, I can do better' and many more. Casting ages 13 and up.

We're rehearsing now and open on December 6. For more information please respond to this post, contact Director Steve Stott by direct message or email information@shermanplayers.org ... See moreSee less
Feee, Fiiii, Foe, Fum, I smell the feet of an englishmaan!
Load more