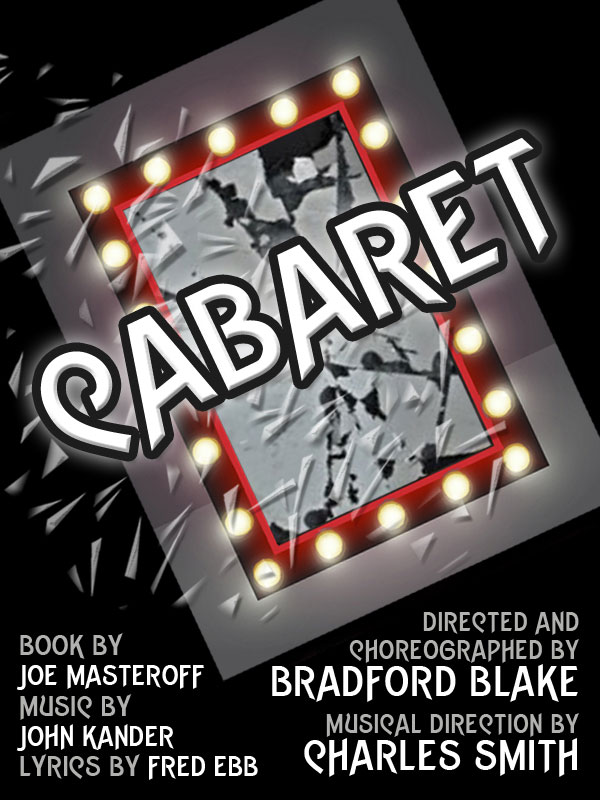 Auditions for Cabaret
Additional auditions for the musical, Cabaret on Monday, July 29th from 6:30-8:00 pm at The Sherman Playhouse. The play will be directed by Brad Blake and music direction will be provided by Charles Smith. Auditions will be on a first come first serve basis. No appointment necessary. Pics and resumes encouraged.
There are NO non-singing roles. This is the 1998 Roundabout Theatre version of the show. If you are familiar with the 1972 film version of CABARET please realize that it has little to do with the stage version. For vocal ranges C4 = middle C.
Roles
Due to the nature of this piece, no one under the age of 18 will be seen for auditions.
 The Emcee – The Realist. The Master of Ceremonies at the Kit Kat Klub, a leering, ghoulish, flamboyant figure. He is capable of running the gamut from comic and loveable to bitter and sardonic and broken. He is the camera lens through which we see the story unfold. German accent required. Tenor Db3-G4. Dancing required. Age range flexible but prefer 20s-30s.
Sally Bowles – The Escapist. The headlining British singer at the Kit Kat Klub. Garish, flamboyant and oblivious to real life. British accent required. Mezzo E3-C5. Dancing required. Age range 20s to young 30s.
Clifford "Cliff" Bradshaw – The Romanticist. An American writer traveling through Berlin. Clean cut, proper and not yet jaded by life. Struggles with his sexuality and the changing politics of his world. Baritone C#3-E4. Age range late 20s to mid-30s.
Fräulein Schneider – The Fatalist. An older German woman who runs the boarding house that Cliff and Sally live in. Somewhat hardened by her life. We watch her numb emotionally as the politics of her surroundings increase in power. German accent required. Contralto Eb3-Bb4. Some movement. Age range 50+.
Herr Schultz – The Optimist. An elderly Jewish fruit shop owner who falls in love with Fräulein Schneider. Gentle and affectionate. He believes in the goodness in people. German accent required. Bari-tenor C3-G4. Some movement. Age range 50+.
Ernst Ludwig – The Opportunist. A German man who befriends Cliff when he arrives in Berlin, later revealed to be a Nazi. We watch him develop from charming and dapper to sinister and cold. German accent required. Baritone C#3-D4. Age range somewhat flexible. 30+
Fräulein Kost – The Conformist. A German prostitute who rents in Fräulein Schneider's boarding house. May be doubled as one of the Kit Kat girls. Mezzo F#3-D5. Some simple dance required (unless doubling as a Kit Kat girl, in which case dancing required). Age range flexible 30+
Rosie, LuLu, Frenchie, Texas, Fritzie, and Helga – Girls who perform at the Kit Kat Klub. Bawdy, earthy and hard. They also double as other minor roles. Heavy dance and all are singing roles. Must be comfortable being very scantily costumed and performing extremely suggestive and sexual choreography. Age range 20s/30s with some flexibility.
Bobby, Victor, Hans, and Herman – The Cabaret "Boys" of the Kit Kat Klub. All must sing and be able to move well. Also double as several smaller roles with German accents required. Age range 20s/30s with some flexibility.
Preparing for the musical audition
An accompanist will be provided.
All auditionees must sing with piano accompaniment. No a cappella and no recorded tracks will be permitted.
No charts or fake books, no notes on napkins, no music on phones or tablets. Music selection of 32 bars should be clearly marked. Music should be in a binder or on no more than two loose separate sheets across (no stapled music.) so that it's possible to set it on a standard music stand. If it's in a book, it needs to stay open when on a music stand.
Auditionees are asked to prepare 32 bars of both an up-tempo and a ballad in the style of this musical. You may only be asked to sing one prepared song, but it is good standard practice to have a second selection prepared. We prefer that you do NOT sing selections from the score of CABARET as your initial audition pieces. However, if we desire, we may ask you to sing from the show, so familiarity with the score can be helpful. (We will have the score available at auditions).
Audition clothing
Ladies should wear skirts or dresses and be in heels. Hair off the face.
Gentlemen should be wearing slacks, buttoned shirts and tied shoes. No shorts, t-shirts, flip-flops or sneakers.
If you will be required to learn a dance combination, you should be prepared with a change of shoes and/or clothing suitable for dancing.
Dance audition
Actors auditioning for the roles of Emcee, Sally Bowles and the Kit Kat boys and girls will be asked to learn a dance combination. No extensive dance training is necessary for this show but rather a good sense of movement and style.
Readings
Readings from the script will be available at the auditions. Readings will be assigned at the discretion of the director and not everyone will be asked to read.